What Is R-Studio Data Recovery?
A comprehensive data recovery and undelete program renowned for its ability to recover mission-critical data lost to viruses, malicious attacks, and hardware failures or operating system crashes. It supports FAT12/16/32, NTFS/NTFS5, HFS/HFS+ (Macintosh), UFS1/UFS2 (Unix), Ext2FS/3FS/4FS (Linux) file systems and functions on local and network disks, even if partitions are formatted, damaged or deleted. RAID and dynamic disks support.
Who Uses R-Studio Data Recovery?
Business continuity solution that lets businesses of all sizes manage drive image, PC privacy, data recovery, disk encryption, and more.
R-Studio Data Recovery Details
R-Tools Technology
R-Studio Data Recovery Details
R-Tools Technology
R-Studio Data Recovery videos and images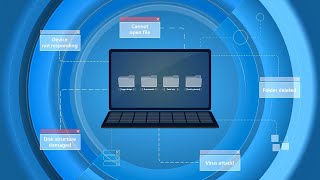 Compare R-Studio Data Recovery with similar products
Starting price
US$49.99/one-time
US$25.00/year
US$79.50/year
N/A
R-Studio Data Recovery deployment and support
Support
Email/Help Desk
FAQs/Forum
Knowledge Base
Phone Support
24/7 (Live rep)
Deployment
Mac (Desktop)
Windows (Desktop)
Linux (Desktop)
R-Studio Data Recovery Features
"What If" Scenarios
AI/Machine Learning
Action Management
Activity Dashboard
Alerts/Notifications
Approval Workflow
Backup and Recovery
Business Continuity Exercising
Business Impact Analysis
Compliance Management
Crisis Management
Disaster Recovery
Document Management
Emergency Notification
Incident Management
Incident Response Checklists
Monitoring
Multi-Channel Communication
Plan Development
Policy Management
Reporting & Statistics
Risk Assessment
Risk Management
Scenario Planning
Secure Data Storage
Task Management
Third Party Integrations
Vendor Risk Management
Vulnerability Management
Workflow Management
API
Access Controls/Permissions
Activity Dashboard
Activity Tracking
Audit Management
Audit Trail
Automatic Backup
Collaboration Tools
Compliance Management
Customer Database
Customisable Reports
Dashboard Creation
Data Analysis Tools
Data Capture and Transfer
Data Connectors
Data Extraction
Data Import/Export
Data Integration
Data Mapping
Data Migration
Data Quality Control
Data Security
Data Storage Management
Data Synchronisation
Data Verification
Data Visualisation
Database Support
Document Storage
Drag & Drop
Full Text Search
Information Governance
Master Data Management
Match & Merge
Metadata Management
Monitoring
Multiple Data Sources
Projections
Real Time Analytics
Real Time Data
Real Time Reporting
Reporting & Statistics
Reporting/Analytics
SSL Security
Secure Data Storage
Task Scheduling
Third Party Integrations
User Management
Version Control
Visual Analytics
Workflow Management
Jason L.
Hospitality Intelligence Consultant in US
Verified LinkedIn User
Hospitality, 11-50 Employees
Used the Software for: 2+ years
Easy IDE
Comments: I use R Studio on a daily basis to interact with data. It's my go-to software anytime I need to do something too big for Excel or something that might need to be repeated.
Pros:
Such a user-friendly IDE. It makes managing all of my active data objects, visualizations, and packages extremely easy.
Cons:
Nobody will ever accuse R or R Studio in being the fastest or most memory-efficient software.
Evelyn B.
UX Researcher in US
Verified LinkedIn User
Health, Wellness & Fitness, 10,000+ Employees
Used the Software for: 2+ years
Great for stats!
Comments: Overall, it is a great tool for stats analysis. I would recommend it to any analyst.
Pros:
I like that this software is easy to use and learn. It is helpful for statistical modeling and doesnt require too much training.
Cons:
I do not like that it does not have as much help documentation as other tools i have used.
Education Management, 51-200 Employees
Used the Software for: 6-12 months
R-Studio, Computing
Comments: Overall, I found it difficult to use. It has a lot of functionality and some great plotting features, but I have found other programs that are a lot easier to use that do the same tasks.
Pros:
I like the way you can easily put a lot of code on one line and separate work easily. The functionality of exporting makes it easier to add onto the code or even import it into already, made work, like Word documents.
Cons:
There's a lot of confusing aspects about this software. Sometimes, the errors make it really difficult to figure out what's wrong and there should be more help support, and online information
Aastha B.
Sr. Project Manager in India
Verified LinkedIn User
Market Research, 51-200 Employees
Used the Software for: 6-12 months
R Studio Review 2020
Comments: Data Visualization, Tabulation, Data Analysis
Pros:
R is a great software. Its a standalone software that helps in meeting all the data analysis tasks like - Data Processing, Data Tabulation, WEighting, Data Visualization , Reporting, Data Transformation everything. To become a Data Scientist we need to understand R. Most if the features are free of cost.
Cons:
There are long codes if we can reduce the coding a bit and can add drag and drop features. Otherwise its a great tool.
Jay M.
Student in India
Verified LinkedIn User
Industrial Automation, Self Employed
Used the Software for: 6-12 months
Simply Amazing!
Comments: I have made an image classifier on both, Python and R.
Pros:
I work on datasets while pursuing my ambition to be a part of Data Science. The first and foremost step is to process the given data. Earlier I used to use Pycharm for all my work but R-Studio is the one tool I missed. I realized that lately. It has already inbuilt libraries which reduce the code and hence the workload by half. All you need to do is call the given library.
Cons:
I couldn't find any flaw as such. Even if you work on Python or R, your code must be correct. Be careful about the indexing as it is different in both. Also, sometimes python helps in detailed analysis.