What Is BigMarker?
BigMarker is the world's most customizable platform for webinars, virtual and hybrid events. We combine powerful video technology with robust marketing and interactive experience capabilities to create unique branded events.
Who Uses BigMarker?
Those who desire a fully customizable platform for webinars, virtual and hybrid events with interactive event experiences and several monetization options.
Where can BigMarker be deployed?
Cloud, SaaS, Web-based, Mac (Desktop), Windows (Desktop), Linux (Desktop), Android (Mobile), iPhone (Mobile), iPad (Mobile)
About the vendor
BigMarker
Located in Chicago, US
Founded in 2010
Phone Support
24/7 (Live rep)
Chat
BigMarker pricing
Starting Price:
Not provided by vendor
No free trial
No free version
BigMarker does not have a free version and does not offer a free trial.
Pricing plans
get a free trial
About the vendor
BigMarker
Located in Chicago, US
Founded in 2010
Phone Support
24/7 (Live rep)
Chat
BigMarker videos and images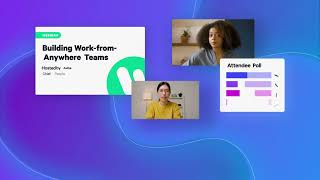 Features of BigMarker
Agenda Management
Alerts/Notifications
Attendee Management
Attendee Profiles
Attendee Tracking
Audience Analytics
Audience Engagement
Automatic Transcription
Badge Management
Brand Management
Breakout Rooms
Campaign Management
Content Management
Customisable Branding
Customisable Templates
Electronic Hand Raising
Event Management
Event Maps
Event Registration
Event Scheduling
Exhibit/Vendor Management
Form Builder
Host Controls
Kiosk Ticketing
Landing Pages/Web Forms
Lead Generation
Lead Management
Live Chat
Live Streaming Software
Marketing Automation
Mobile Access
Mobile Check-in
Multi hosts
Multi-Channel Campaigns
Multi-Channel Marketing
Networking
One-to-One Messaging
Online Registration
Polls/Voting
Presentation Streaming
Private Chat
Publishing Options
Q&A Management
Real-Time Chat
Recording
Reporting & Statistics
Reporting/Analytics
Screen Sharing
Social Media Integration
Speaker Profiles
Sponsorship Management
Survey/Poll Management
Template Management
Ticketing
Two Way Audio & Video
Video Conferencing
Virtual Lobby
BigMarker Alternatives - Capterra New Zealand 2021
Ivan
CEO in Mexico
Verified LinkedIn User
Computer Software, 2-10 Employees
Used the Software for: 1+ year
Excellent tool
Comments: in general it is very good, I can create events, send invitations by mail and the reports are simply incredibly functional, maybe I would just like to have the hybrid events mode
Pros:
the reports and the great ease of use are its greatest advantages
Cons:
it is complicated to add white label functionality and hybrid events
Alternatives Considered: Zoom Meetings
Reasons for Switching to BigMarker: due to the large number of professional functionalities
Education Management, 2-10 Employees
Used the Software for: 2+ years
Big Maker is an excellent option to do webinars
Comments: BigMaker has helped me generate leads through webinars and increase my sales. Having a solid webinar tool allows me to focus and improve my marketing strategies through webinars
Pros:
I can do a lot of things with Bigmaker, without buying other tools, for example: live webinar evergreen webinar Conference hall Automations
Cons:
It has a learning curve that requires investing a little time. As it is a very complete tool, you have to understand each of the options to take advantage of it.
Alternatives Considered: WebinarJam
Reasons for Choosing BigMarker: Big Maker is a tool with more options and more stable. I could also integrate it with moosend, which is the email platform that I use.
Switched From: WebinarNinja
Reasons for Switching to BigMarker: I tried both meetvio and Webinar Jam and BigMaker was the one that gave me the best solutions and tools to make webinars.
Individual & Family Services, 2-10 Employees
Used the Software for: 1+ year
All bark, no bite
Comments: Trying to get this software to function as needed to be a proper marketing tool is like trying to shove an oval peg into a round hole. It's like 80% of the way there, but that 20% is critical and customer service is downright snotty to you, as though your desire for the features promised to function makes you difficult. The feature requests list is a joke- there are hundreds upon thousands of requests in there for the same 20 features, worded slightly differently- many of which are years old with absolutely zero acknowledgement from the BM team. Save yourself the headache.
Pros:
It appears to have all the features one would need to host life, evergreen, or hybrid events.
Cons:
The features that are missing are critical. For one- you aren't furnished with a custom domain, meaning if you're using this for marketing purposes- you can't instal or use your Facebook pixel effectively. This is a deal breaker. The registration widgets are only compatible with their built-in, ugly AF landing pages. If you opt to use your own landing pages, it won't automatically redirect. This makes the registration process clunky and unintuitive for participants. Also, because it doesn't automatically redirect- your Meta pixel won't fire! The registration landing pages are ugly, require extensive CSS customization, and are useless because again- no ability to register the domain with your advertising account. Participants are prompted to touch the screen to start hearing the audio, but most miss this notice- it leaves a poor taste in their mouth when something doesn't work immediately and intuitively. There's zero security built-in, which means once a bot gets a hold of your URL you're flooded with bogus registrations- and if you use your own security it bypasses the block list. The analytics are NIGHTMARE with no ability to filter by date- which makes collecting KPIs a tedious manual task.
Alternatives Considered: EasyWebinar and eWebinar
Reasons for Switching to BigMarker: I got a lifetime deal on it. I regret the purchase.
BigMarker Response
2 months ago
Hi Allana, We're so sorry that your BigMarker experience did not match your expectations. We're normally known for our exceptional attention to detail, and we regret that we missed the mark. If you could please email us at [email protected], we would appreciate your time so that we can investigate your feedback further to resolve this situation. Thank you, Team BigMarker
Marketing & Advertising, 2-10 Employees
Used the Software for: 1+ year
BigMarker Powers our LeadGen Marketing
Comments: The initial learning curve is medium to high, but once you know how it works, its easy to use and works like a charm. Customer support is outstanding!
Pros:
The ease of use and its numerous features make BigMarker the top-of-shelf solution for our automated webinar needs.
Cons:
Advanced features mean you need to invest a bit more time to get the job done.
Alternatives Considered: EasyWebinar
Reasons for Choosing BigMarker: Webinarjam comes with slow servers and a clunky interface. On top if, the owner seems to prefer to eat his cake without caring for the SAAS users. A business ethic that's not our cup of tea. The guys at Easywebinar do better in terms of business ethics and have a good product actually. But BigMarker comes out on top any time.
Switched From: WebinarJam and EasyWebinar
Reasons for Switching to BigMarker: The guys at Easywebinar do better in terms of business ethics and have a good product actually. But BigMarker comes out on top any time.
lou
Business Coach in Canada
Marketing & Advertising, Self Employed
Used the Software for: 1+ year
All the power and feature you need to drive your online business
Comments: I like being able to use the one software service in each of the areas I mentioned above. Having only one tool to learn and use makes for productivity and efficiency that is critical to all businesses - especially small businesses without unlimited budgets. :)
Pros:
A good video conferencing feature is critical to a number of areas in my business: content creation and delivery; marketing; meeting with clients and prospects; delivering and recording courses; customer support; virtual events (to replace in-person events)...it's the lynchpin of an effective online products or services business. BigMarker has all the features you'll need to support all of these activities with a single, easy to use, and feature-packed SaaS. At a very competitive price for the value.
Cons:
I like that the product keeps pace with competition by upgrading the functionality and utility of the software. No deal breakers in this respect.