What Is HoneyBook?
HoneyBook helps creative entrepreneurs and freelancers book more clients, manage projects and get paid all in one place. With our business management software, you can automate your busy work and stay on top of all your to-dos, saving time and money so you can grow your business. Its like your own personal assistant.
Small business owners and freelancers have used HoneyBook to increase their bookings and save time.
For your first 6 months, get HoneyBook for $1 per month with code ONLY1.
Who Uses HoneyBook?
Graphic designers, DJs, photographers, business coaches, web designers, consultants, florists, caterers, videographers, calligraphers, business coaches, health & wellness professionals, and more!
Where can HoneyBook be deployed?
Cloud, SaaS, Web-based, Mac (Desktop), Windows (Desktop), Linux (Desktop), Chromebook (Desktop), Android (Mobile), iPhone (Mobile)
About the vendor
HoneyBook
Located in Cedar Hill,, US
Founded in 2013
Phone Support
Chat
Countries available
Canada, United States
About the vendor
HoneyBook
Located in Cedar Hill,, US
Founded in 2013
Phone Support
Chat
Countries available
Canada, United States
HoneyBook videos and images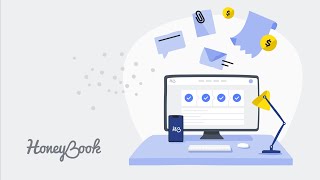 Compare HoneyBook with similar products
Features of HoneyBook
ACH Payment Processing
API
Access Controls/Permissions
Accounting Integration
Activity Dashboard
Alerts/Notifications
Appointment Scheduling
Authentication
Availability Management
Billing & Invoicing
Business Process Automation
CRM
Calendar Management
Calendar Sync
Calendar/Reminder System
Client Management
Client Portal
Collaboration Tools
Completion Tracking
Confirmation/Reminders
Contact Database
Contact Management
Content Library
Contract Drafting
Contract/License Management
Customer Accounts
Customer Database
Customisable Invoices
Customisable Templates
Dashboard
Data Import/Export
Data Security
Debit/Credit Card Processing
Document Management
Document Storage
Electronic Payments
Electronic Signature
Email Management
Event Scheduling
Expense Tracking
File Sharing
For Small Businesses
For Startups
Forms Automation
Forms Management
In-Person Payments
Interaction Tracking
Invoice Creation
Invoice History
Invoice Processing
Lead Capture
Lead Management
Mobile Access
Mobile App
Mobile Payments
Multi-Channel Communication
No-Code
Online Booking
Online Invoicing
Online Payments
Payment Processing
Pre-built Templates
Process Modeling & Designing
Project Management
Project Planning/Scheduling
Quotes/Estimates
RFP Management
Real Time Notifications
Recurring Invoicing
Recurring/Subscription Billing
Reminders
Reporting & Statistics
Reporting/Analytics
Reporting/Project Tracking
Response Management
Rules-Based Workflow
Scheduling
Search/Filter
Signature Management
Social Media Integration
Task Management
Task Scheduling
Tax Calculation
Templates
Third Party Integrations
Time Tracking
Version Control
Web-based Deployment
Workflow Configuration
Workflow Management
HoneyBook Alternatives - Capterra New Zealand 2021
Christina
Owner in US
Verified LinkedIn User
Legal Services, 2-10 Employees
Used the Software for: 2+ years
The Best Client Management Resource-- goes beyond normal software
Comments: Before I used HoneyBook, I had tried several other client management platforms. All of them were clunky, and often I'd have to hunt around for things in the interest of the app developer's attention to folders and organization. What a mess! I'm so glad I switched to HoneyBook. They've consistently made product improvements and seem to really care about their customers. It gets easier and more fun to use every day, with just enough features to accomplish what I need without overwhelming me. I highly suggest this to anyone who is managing multiple clients, especially if you have client projects that tend to go dormant for awhile then pick back up.
Pros:
I love how easy it is to use, and how amenable the HB team is to updating the software if you have a feature request or complaint. It provides very visual, easy user prompts that allow me to easily accomplish what I need in a fraction of the time of other software apps I've tried.
Cons:
It's annoying that I can't delete the default emails that came with my account to replace them with my own workflow, so myself or a team member doesn't get confused with their suggested emails vs. the ones I actually want to use.
HoneyBook Response
3 years ago
Christina, thank you for you being a HoneyBook member! We are so happy to hear that HB allows you to manage your clients in a fraction of time of other systems! Our Product Team works hard to consistently meet and exceed our members expectations. Thank you for the feedback on the default email templates. I will share with our team. Incase you didn't know, you can edit the default templates text and format to meet your needs.
Marketing & Advertising, 2-10 Employees
Used the Software for: 6-12 months
Alternatives Considered:
Solid Payment Invoicing & Proposal Tool
Comments: 8/10. Once the client has paid the first time, their automated recurring payment solution is working really well for me.
Pros:
I moved away from Quickbooks online because they didn't have an easy way to send customers automatic recurring invoices. Honeybook had pre-built service agreements along with the automated recurring payments feature I needed for my business. It was appealing to work with them because set up was very easy to get what we needed up and running
Cons:
After a client pays their invoice, it usually takes 12-24 hours for Honeybook to send me a confirmation email saying they've paid. This is (I don't use this word often) absurd. With Quickbooks, I know payment confirmation comes in within 10 minutes. Especially if I am going to start work with a client right as they pay, this hurdle in their platform stops me from getting to work right away. It usually leads to me emailing my customer "Did you pay the invoice?" then them replying "I did!" then me looking into Honeybook wondering why the heck it hasn't come in and making me look foolish to my client... Then I finally get the notification the next day. It's the #1 feature request they need to get updated.
Phi
Business Manager in US
Verified LinkedIn User
Photography, 2-10 Employees
Used the Software for: 1-5 months
Source: GetApp
1 out of 5 Stars for Honeybook - Look else where
Comments: I would rank the company 1 out of 5 stars. Great idea but after using it for 4 months or so, we had a lot of communication problems with our clients, for example, our emails were getting lost in our client spam folders. We paid for the whole year and cancelled to hopefully get partial refund. Totally our fault that it was past 60 days because we want to keep trying to make it work so we weren't able to get any money back. It sucks but oh well, the worst part is that a conversation that could have taken 10 minutes turned into 3 days because the company had no urgency for customer support. I would suggest going with a different company.
Pros:
They had a great idea to streamline and help manage small businesses.
Cons:
Customer support. A conversation that could have taken 10 minutes turned into 3 days because the company had no urgency for customer support. I would suggest going with a different company.
Graphic Design, Self Employed
Used the Software for: 1-5 months
Honeybook is a game-changer for Service Oriented Small-Businesses
Comments: The biggest problem that I've struggled with since launching my business is obtaining payment in a timely fashion. Honeybook totally fixed that problem for me. I don't have to give a laundry-list of payment methods or pay for additional payment services, wait around for physical checks, or process e-checks. My customers just plop in their card information and then it hits my bank account. SO. NICE.
Pros:
Honeybook took my booking process to a massively higher level of success. My contracts are all signed, and invoices are paid before I even start designing. I walk my customers through the process and we discuss TAT and rates, next steps, and then I kick them over the Proposal with the same details we discussed during the sale. With other software I've struggled to receive timely payments, or contract signatures. Not anymore!
Cons:
The contract templates are pretty limited to social media management and marketing ops. I think that every business needs their own contracts, period, but it would be nice to have a better starting place for other service providers. Additionally, the emails that Honeybook kicks out for proposals, payments, contracts and the like have reportedly found their way to many of my customer's spam box. I just warn them ahead of time, but it's not super reassuring to some more leery customers.
Hospitality, 2-10 Employees
Used the Software for: 1+ year
Alternatives Considered:
Best business decision!
Comments: Incredible. I can't see us using any other program.
Pros:
Integration with gmail for scheduling, payment processing and mobile app! Also, how easy it is to use and how it maximizes the client experience.
Cons:
For our industry, it is lacking an edidable document such as a BEO or Event Details Sheet - I wish this type of document would be an option.