What Is Visme?
Presentation solution designed to help businesses of all sizes, non-profits organizations, and educational institutions use customizable icons, graphs, charts, images, and more to create interactive content. The platform enables professionals to collaborate with team members across multiple projects on a unified dashboard. Content creators can utilize inbuilt charts, data widgets, and maps to visualize information. It also provides password protection functionality to secure data.
Who Uses Visme?
Small and Large companies, non profits organizations and educational institutions.
Where can Visme be deployed?
Cloud, SaaS, Web-based
About the vendor
Visme
Located in Rockville, US
Founded in 2012
Phone Support
24/7 (Live rep)
Chat
Visme pricing
Starting Price:
US$12.25/year
Yes, has free trial
Yes, has free version
Visme has a free version and offers a free trial. Visme paid version starts at US$12.25/year.
Pricing plans
get a free trial
About the vendor
Visme
Located in Rockville, US
Founded in 2012
Phone Support
24/7 (Live rep)
Chat
Visme videos and images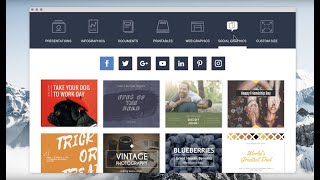 Features of Visme
Access Controls/Permissions
Activity Dashboard
Animation
Audio File Management
CAD Tools
Collaboration Tools
Content Delivery
Content Library
Content Management
Customisable Dashboard
Customisable Templates
Data Import/Export
Data Management
Data Visualisation
Design Templates
Drag & Drop
For Sales Teams/Organizations
Image Editing
Media Library
Offline Presenting
Reporting & Statistics
Reporting/Analytics
Search/Filter
Text Editing
Third Party Integrations
Video Support
Visual Analytics
Visme Alternatives - Capterra New Zealand 2021
Casey
Volunteer in US
Verified LinkedIn User
Nonprofit Organisation Management, 11-50 Employees
Used the Software for: 1-5 months
Perfect for any graphic design experience level - even complete beginners!
Comments: I am a volunteer for a non-profit animal rescue organization. We had a very successful past year and had been looking for a way to visually show all of the data from it, but didn't quite know how. Before working with Visme, we had no idea how beneficial it would be to have this data visually represented in a beautiful infographic. The results were eye-catching, easy to read/interpret and perfect to share on both social media and in print. We were able to take a closer look at our metrics and determine specific data we should be keeping track of- and we will be able to use these findings as a benchmark for years to come. Thank you Visme, for providing a tool to not only create an aesthetically pleasing infographic, but a tool that opened our eyes to our own various analytics that we can monitor and share with our supporters.
Pros:
Visme is very easy to use, even for someone with no graphic design/technical experience. I created a stunning infographic to display all of my organization's "year in review statistics" without any frustration or confusion. I was able to create a proof of the design and export it to a JPEG file for review. When layout/aesthetic decisions were finalized, I purchased a membership to have access to down a PDF version of the design. I ended up sending the same PDF file to a local print shop where it was printed on a 24x36 foam board - which still appeared in the highest quality that was displayed in my browser. You can't have a high quality print without a high quality file to print from. The first of many great experiences!
Cons:
Although it was nice to be able to size the canvas based on a ratio of pixels, it would have been nice to have an additional or alternative a way to size the canvas based on inches/centimeters for easy printing. If there is in fact already a way to do this, I would recommend having the options associated with the 'canvas size' feature.
Alternatives Considered: Infogram, Canva, Adobe Illustrator and Adobe Creative Cloud Express
Reasons for Switching to Visme: The ability to play around with the software and use almost all of the features before having to commit to purchasing a plan was the deal breaker for me. The icing on the cake was the ability to create/download an actual proof of the design as a JPEG before purchasing. Although the JPEG was lower quality, it made perfect sense that the higher quality versions of files to download were part of the paid plan which I thought was very reasonable.
Näzih
Shop Manager & Data Analyst in Austria
Verified LinkedIn User
Retail, 1,001-5,000 Employees
Used the Software for: 1-5 months
Never regretted it
Comments: The presentations are always very popular with my teammates and allow me to present myself as I want to be perceived and not in a standardized way.
Pros:
Visme is a practical presentation tool that is easy to use, allows for beautiful designs and can impress listeners.
Cons:
Except for small technical defects (e.g. undoing actions) and the somewhat limited selection of data analysis tools, there is really nothing to complain about.
Alternatives Considered: Google Sheets
Reasons for Choosing Visme: PowerPoint is a standard tool and only offers very flat, sometimes monotonous presentation options.
Reasons for Switching to Visme: Visme simply offers me a lot more options and is visually more appealing and lively.
Muhammad Mohsin
Freelancer in Pakistan
Verified LinkedIn User
Facilities Services, Self Employed
Used the Software for: 1-5 months
Visme Review
Pros:
Visme has thousands of templates for its user and it also provides millions of copyright free photos. TYhere are a 100 different font styles.
Cons:
for a free version, every design has a watermark of visme and it only allows the user to create three projects for free.
Media Production, 2-10 Employees
Used the Software for: 6-12 months
Better alternatives exist, but good for some use cases
Comments: Unfortunately, I had paid the year in advance, so I've lost my money. I no longer use them and instead use software from a couple other tools. I particularly like Crello and Pixelied. However for infographics, Visme is still the best. It's just a shame they don't care about their users privacy requirements, or applying the law outside of the US.
Pros:
I first loved this software for their unique tools to create infographics.
Cons:
Unfortunately, I also care out privacy and was not allowed to participate in the offered free training without agreeing to their terms of service that included adding me to marketing lists. Since I know this is illegal in the EU, I politely asked them to change it so that I could attend their webinars. Their response was initial denial, then basically to ignore. I tried several times in the future. In the end I gave up using them and switched to Crello and Pixelied.
Alternatives Considered: Canva
Reasons for Switching to Visme: liked their infographics
Automotive, 501-1,000 Employees
Used the Software for: 1+ year
Powerful Platform To Create Impactful Presentations
Comments: We create weekly review presentations on Visme. The templates are very useful. Also, cross-device collaboration helps in accessing and editing files anytime anywhere. If cost is not a constraint then you should go for this tool.
Pros:
Visme has a huge and impactful ready-to-use template library creating a unique selling point for itself. The graphic options available are unbeatable.
Cons:
Visme is a more expensive tool as compared to other SAAS platforms. Only large organizations can afford the same.