What Is Soda PDF?
Soda PDF Anywhere is the first fully functional PDF solution available both as a desktop and a web-based app. Users have the freedom to access features on any device with a web browser, including desktops, laptops, smartphones, and tablets. It comes equipped with innovative features specifically designed to increase productivity, including PDF conversion, editing, reviewing & security tools, a reputable e-signature solution, Bates numbering, cloud integration, and much more. Try it free today!
Who Uses Soda PDF?
Small, medium and enterprise-level businesses have successfully adopted Soda PDF for their document management needs and have in turn experienced significant productivity gains.
Where can Soda PDF be deployed?
Cloud, SaaS, Web-based, Mac (Desktop), Windows (Desktop), Linux (Desktop), Android (Mobile)
About the vendor
by LULU Software
Located in Saint-Laurent, Canada
Founded in 2009
Phone Support
Chat
About the vendor
by LULU Software
Located in Saint-Laurent, Canada
Founded in 2009
Phone Support
Chat
Soda PDF videos and images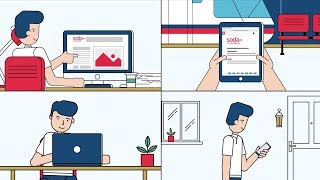 Compare Soda PDF with similar products
Starting price
US$84.00/year
US$1.95/month
US$12.99/month
N/A
Andres R.
Senior Operations Analyst in Paraguay
Verified LinkedIn User
International Trade & Development, 5,001-10,000 Employees
Used the Software for: 1+ year
Amazing set of PDF tools that includes OCR
Comments: After scanning all the physical documentation that I had in my office, I managed to transfer it to digital format through the OCR tool that has Soda PDF, which allowed me to have a better management of my documents, since previously I had to review a large amount of files in search of some document. Also, I can edit PDF files according to what I need and sign them digitally.
Pros:
I like the fact that you have an OCR tool to recognize the text in the images, so you can then edit that text in PDF. You can convert PDF files to Word, Excel, RTF and other formats. Another advantage of using Soda is that I receive email updates about its new features, which include instructions for use and video tutorials. Also, I can create a custom toolbar, where I include the tools I use most.
Cons:
At times, when trying to print files in batches, the software stops responding and I have to open the documents again.
Deborah B.
Virtual Assistant in US
Verified LinkedIn User
Professional Training & Coaching, Self Employed
Used the Software for: 1+ year
Alternatives Considered:
Quality features - Fair Pricing - Watch for VERSION selection while using the software
Comments: When creating documents for publication there are processors first, then the PDF export (which needs to be changed depending on the Printer's specification). Then, after the proof is seen and edited, there are changes to make. I am grateful we have this software to easily delete pages that need to be updated, and then merge in the page that is corrected. The time saving, and reducing the possibility of additional issues (no need to export the whole document again). My only suggestion is a clearer path to customer data, integration for updates to plans, and clearer communication when software updates or renewals are due.
Pros:
It was difficult to find software that has merging and conversion features. When I first tried Soda PDF I had a limited edition free forever plan. Highly helpful to find out if it was going to work for what I needed. Once I learned how easy it was, I purchased the standard software plan. Merging, Converting, Deleting pages (that have been updated and new ones added). I've created two books and two decks of cards for publishing for clients using this tool ''after'' the documents were ready to export to PDF.
Cons:
An improvement I would like to see is the update between plans. For example, I purchased the standard plan after using the free forever plan. When I updated I ended up with both versions (and need to keep both), but, sometimes I'm in the middle of working on something and I get an error saying "Your plan does not include this feature, Update now ..." and the automation tries to sell me a plan I already own (but have not remembered a couple of times thought my plan had expired). It would be helpful if the VERSION of the plan is integrated for each customer using the software. CON: There does not seem to be a customer dashboard where I could see what products I have purchased and when they are due to renew. The problem with this is now I'm back on the free forever version, my standard service expired, but I didn't realize it until I was in the midst of working on a document.
LULU Software Response
5 months ago
Hello Deborah, Thank you for sharing that you like how our program performs and find it cost-effective. We also appreciate your feedback regarding our upgrade system, we have forwarded it to the corresponding department. You can check your license details by clicking on your name in the right upper corner. Then choose Manage Products. If you need any assistance with your license, please contact our support at [email protected] and we will surely help you.
Individual & Family Services, Self Employed
Used the Software for: 6-12 months
Alternatives Considered:
Customer support
Comments: A bad experience with support. They promised a partial refund and an upgrade to Soda Business Pro+OCR. They sent a link to download this version and it was only a 7-day trial, not the full version. I have tried to contact them but no response to my issue. They have my money but I don't have the program.
Pros:
I have enjoyed using the program (Soda 10). The ability to sign is great.
Cons:
The program is fine. The customer support is bad. They do not follow through with their promises.
LULU Software Response
4 days ago
Hello Gary, Thank you for bringing to our attention your experience with our services. We will surely investigate this case. We want to assure you that we are ready to help you to activate your license and check the status of the partial refund. Please contact our chat support at this link https://support.sodapdf.com/hc/en-us/ , click on the red button Support and we will do our best to help you.
Lisa B.
Teacher in Australia
Education Management, Self Employed
Used the Software for: 1+ year
Appalling customer service
Comments: When I tried to cancel my renewal I was still charged for one of the 'add ons' . Apparently I didn't cancel it when I cancelled the rest. I immediately contacted Soda and after a week or so they politely replied with 'tough luck'
I believe that their system is set up to do exact exactly this on renewals.
Pros:
Very little - it did the job it was meant to but not with the ease of competitors
Cons:
It was very clunky to use and at times frustrating.
LULU Software Response
2 months ago
Hello Lisa, Thank you for reaching out to us and bringing to our attention your experience with our program and our support. We have forwarded your feedback to the corresponding department and we will make sure to investigate your case. We encourage you to contact our live chat in order to resolve the issue with the charge that you did not expect. They will do their best to help you. To contact our chat please go to https://support.sodapdf.com/hc/en-us and click on the red button Support.
Verified Reviewer
Director in Australia
Verified LinkedIn User
Financial Services, 2-10 Employees
Used the Software for: 1+ year
Source: GetApp
Terribly slow, not easy to set up, regularly asks you to upgrade
Comments: Wish you had stuck to the original version without the new release.
Pros:
It was initially good because it was easy to use, had all the PDF functionality and quick. Then after 12 months it became terribly slow after version releases. And difficult to set up after I upgraded.
Cons:
So horribly slow and painful. I had urgent documents to edit and this was frustrating and stressful. I switched to Adobe PDF Editor and can't believe how much faster it is.
LULU Software Response
3 months ago
Hello, Thank you for sharing your experience with our software. Thank you for providing your feedback on our newest version. We will certainly look into your case and investigate why the new version was slow. We also want to let you know that our support team is always ready to help you. Please do not hesitate to contact us at https://support.sodapdf.com/hc/ should you have any questions.