Who Uses SlideDog?
Presentation solution that helps businesses of all sizes create custom presentations, poll quizzes, live shares and multiple displays across digital signages with looped playback and more.
What Is SlideDog?
With SlideDog you can blend PowerPoints, PDFs, websites, Prezis, videos and more together without having to stop the flow of your speech to bring up the next item on the screen.
It's perfect for people who use multiple forms of media in their presentations and also an especially great tool when you have multiple presenters at an event.
The Slidedog iOS/Android app lets presenters remote control SlideDog from their phones and offers live sharing of slides and audience interaction features.
SlideDog Details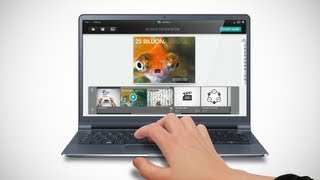 Play
SlideDog pricing overview
SlideDog has a free version and offers a free trial. SlideDog paid version starts at US$99.00.
---
SlideDog Features
Customisable Templates
Drag & Drop
For Religious Organizations
Layout Management
Media Library
Multi-Screen Support
Presentation Streaming
Scripture Database
Text Editor
3D Objects
Animations & Transitions
Audio Content
Collaboration Tools
Customisable Templates
Media Library
Offline Editing
Offline Presenting
Screen Sharing
Search/Filter
Video Content
Chord Chart Management
Media Library
Playlist Management
Presentation Management
Projection Tools
Scripture Database
Worship Planning
Russell P.
Teacher and consultant
E-Learning, Self Employed
Used the Software for: 6-12 months
Overall Rating

Ease of Use

Features & Functionality

Customer Support

Value for Money

Likelihood to Recommend
Reviewer Source

Reviewed on 4/02/2019
"Interesting idea to prevent presentation glitches!"
Comments: SlideDog is a great presentation tool for building a playlist of slide decks from different sources. I like the idea and problem this solves and I think they've built a clean and well designed platform.
Pros: SlideDog is interesting idea and product and is extremely useful when multiple different presenters or presentations are to be used. Here's what I like most:
- I like the purpose or problem they're attempting to solve. We've probably all been there - in a situation where you or someone you know's presentation failed to work because of some strange issue. SlideDog prevents that because you're able to load all sorts of presentations in as a slide deck playlist. That's a simple idea, yet brilliant!
- I love that this software is so accepts so many different file types. It doesn't seem to matter what year or version or update you have, they all seem to be compatible.
- In my first experience, I was amazed at how simple and clean it is. That's important to me. Yes - I like advanced features - but I love a simple user interface and SlideDog provides that. It's logically and aesthetically arranged.
- When building a slide deck or playlist, you can also include polls or opportunities for feedback. That's extremely useful. We had multiple presenters that were going to be presenting, and this allowed us to gather feedback forms that were consistent (or even personalized).
- Similar to NearPod or PearDeck, you have the option to do "Live Sharing" and blast a presentation to multiple devices. This increases engagement, in my opinion.
- The built in "clicker" or slide changer is also a neat feature that is operated through a phone app - great idea!
Cons: Here are some setbacks that I've experienced with the platform:
- SlideDog does not work on Apple products. That is a major setback for some users.
- I know their purpose is not for creation, but it would be great if they added this feature. I understand that the platform is not designed for modifications either, but if a mistake is noticed, it can be tedious to go back to the original presentation source, make the update, and then shift it back to SlideDog.
- I really just think the premium version is too pricey. This is great for what it is, but I cannot justify the price when the presentation source has the ability to present, as well.
Reviewer Source

Reviewed on 4/02/2019
Hannah W.
Administrative Assistant
Information Technology & Services, 11-50 Employees
Used the Software for: Free Trial
Overall Rating

Ease of Use

Features & Functionality

Customer Support

Value for Money

Likelihood to Recommend
Reviewer Source

Reviewed on 21/03/2019
"Cool features and simple to use"
Comments: SlideDog is a handy, simple tool to make presenting easier and run smoother. There are some really cool, interactive and useful features that it offers.
Pros: -It's a pretty intuitive design. Even on my first use, it was pretty easy to figure out where everything is.
-The interactive features are awesome. You can super easily create a poll, or ask an open ended question for doing a live presentation (audience gets a link and can participate)
-I really appreciate that you can put a web-page into the slideshow and access it without leaving your slides. Super convenient and makes the presentation process go a lot smoother
-You can download your slideshow to a Powerpoint file. I haven't used this feature myself, so I'm not sure how it affects some of the more interactive functionality, but still a nice option.
-I like that you have the option to either automatically advance or click through your slides
-Cool that there's mobile integration!
Cons: -The software ran really slow on my computer. Although the interface is simple, it feels a bit clunky and dated.
-In my opinion, it would make more sense for this be a web-based program rather than one to download on your computer due to the live-presentation nature. I prefer to use web-based software for things like this.
Reviewer Source

Reviewed on 21/03/2019
Wences D.
Inspector de Seguridad Industrial
1,001-5,000 Employees
Used the Software for: 1-5 months
Overall Rating

Ease of Use

Features & Functionality

Customer Support

Value for Money

Likelihood to Recommend
Reviewer Source

Reviewed on 4/07/2018
"It's interesting."
Pros: you can create custom playlists by adding from Power Point presentations, PDF files, presentations with Prezi a more sophisticated program than Power Point, movie clips combining this looks good!
Cons: One of the main contras is that to use this program to its fullest in the various files you have to use is that you must have them installed on your computer as for example to watch videos you must have installed VideoLan VLC Media Player or Google Chrome to websites.
Reviewer Source

Reviewed on 4/07/2018